It all began 6.5 years back when I got married to a Dombivlikar and was uprooted from my "Dilli" and "dil." 2nd January 2011 was the first time I stepped into this city called "Dombivli." It was the time when my knowledge of Dombivli was restricted to a TV series called Pavitra Rishta and the film Ek chalis ki last local. So, frankly speaking, I did not come here with a lot of expectations. The idea was simple; you will go to a new place which will not be cooler than North-Campus Delhi University. Yes, I was prejudiced and a pessimist when I entered the first chapter of my newly-wedded life.
I peeked out of the train on my way to CST and clicked the first cliche picture of Mumbai, the Mumbai local and I realised all those documentaries I saw on TV with people hanging outside the trains were for real. But, the first thing that struck me was that it was a very systematic city. After my initial cribs with the space issues in homes, that felt like matchboxes; I realised it is not that bad a place.
It had its rules. Coming from Delhi that was the most difficult part. Delhi does not have a culture of rules or does not have a 'singular' culture. It is a city where things happen on their own; people make their own standards all the time.
Dombivli abides by a structure, the city has rules for everything, from getting on to a bus to getting an auto. The Doctors don't work on Sundays, and most small shops are closed at noon for lunch or naps. On Diwali, the area around Ganpati mandir will seem like a grand College farewell sight. There is a sea of young people decked up in traditional attire and clicking pictures and hanging out with friends. It has a Bal Bhavan that is a place buzzing with kids and various opportunities for learning and interacting.
There are a lot of seasonal shops that follow a pattern. For example, during the season of watermelons, you will find the space full of those and the same will be replaced by Mangoes and followed by Ganpati idols during Chaturthi seasons. So, one setup that changes faces according to the season, very interesting and also smart. The biggest difference was of course that I could hardly hear an abuse here compared to Delhi where people miss their mothers and sisters all the time.
I won't say it is a less noisy city; the noise levels are the same just the languages are different. In fact, Mumbai local compensates for all quarrels and qualms that we see in daily lives of Dilli. But, here are 6 degrees of separations between the two cities and my two selves.
Patience is a virtue
Never-ending 'queues' for the bus, auto or even wedding dinners:
In Delhi, the auto wallas take you for a ride. Here, if you are patient enough to stand in proper queues, you will have your due. Not only autos, but the buses also follow the same code. In Delhi, it is the fastest finger first when it comes to getting on a bus. Over here, they follow a highly 'civilised' and ordered way to handle their public transports, err barring the local trains.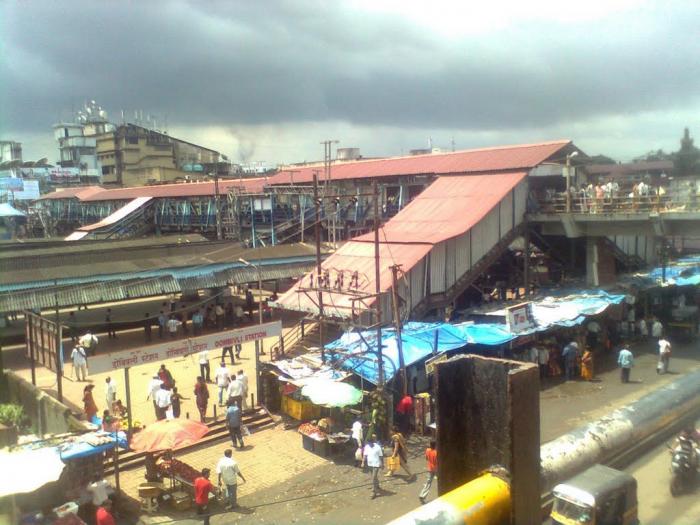 Survival of the 'Fittest'
Dombivli Station
It is said, that if you can get on the train from Dombivli, Dadar and Thane then you have seen it all! Well, I have achieved this 'hero' status and could not be prouder. The Dombivli station, especially getting on the woman's compartment, reminded me of the 'Sparta' city. The Spartan women were known for their warrior spirit and courage. Getting on the Mumbai local and getting the system of the train seating is not for faint hearted. Everything from the concept of the fourth seat in 2nd class to the idea of "Me sangitli" (I have blocked that seat) can make a fascinating study for cultural theory.
We read therefore we are
Vachanalayas and Libraries 
This is the most beautiful and one of the favourite part of  my rendezvous with Dombivli. I have found the super fantastic concept of Newspaper Reading stations with free newspapers in almost every second lane of the city. Yes, they are called 'Vachanalaya Kendra' where you can sit read a newspaper for free, have heartfelt conversations around it with the fellow reader. If it were Delhi, someone would take away the newspaper even before someone will get a chance to read it.
State of mind is 'Green'
A green city with the countless 'nana-nani' park
The charm of gardens in purani dilli is nothing in front of the mela or fair that you find here in Dombivli. The place is a mix of oldies, young couples, the aunties gang and parents with toddlers. There are a few rides and slides in the park which are always taken by a bunch of enthusiastic kids and if you are lucky you may spot a few dance troupes practising their footsteps.
Cooperation & Celebration go hand in hand
Cooperative banks and housing societies 
This was a very alien concept for the Dilliwali in me. Most buildings here are part of a 'Cooperative Housing Society', and no it was not similar to Dilli Kitty Party groups. The word cooperation means celebrating festivals as part of societies and having bank accounts in cooperative banks and every other thing that makes people look and feel more humane than Delhi.
I definitely miss Delhi's Chola kulcha which has now been replaced by Vada Paav; and Gol Gappa which is now called panipuri. Overall in no time, I felt part of this city that embraced me like its own. From being a Dilliwali, today I am a proud Dombivlikar.