It's been a while
I posted here
life has been crazy
and I have been rather lazy
Shut up!!
Starting with a rhyme.. damn I seriously needed the break.
Ok the very big question – Where was I?
1. Facebook.
2. Nowhere
3. Invisible on Gtalk
4. Lazyworld
5 .Out of town
6. Busy … without work.
All of the above summarise reasons behind my absensce. I tried posting here almost n number of times. Many good things worth reporting happened. My birthday, a friend's bday and how special they both were. But, then now they are stale, have probably slipped out of my mind. 🙁
I am unemployed by choice and yet looking for some work that will keep me busy. So, I have associated myself with this NGO whose creative wing is being handled by me. Like website layout and the slogans, poster, campaigning things. too many weddings are coming up in the family. So, have been helping around here and there. Shopping is on and people at my place don't leave a moment to remind me that "Marriage is a good thing" (exactly like the tanishq ad).
My results are out. I am officially a post graduate in literature now. I like the sound of it. But, the scores are not that encouraging. Should have  worked harder. Think the same every year. The movie Khatta Meetha should not be called 'khatta or meetha' .. It is full of bitter moments man. It has sense enough for Akshay Kumar to do a few more Singh is Kings or Chandni Chowks to China.
While the common wealth games are almost here, Money's is busy clearing the Aiyars with Rains and opposition is luring the gains out of inhouse tiffs. I like the political blame game that is now taking most of the news space. Udaan is a super duper movie worth your money. And Ronit Roy is officially an actor class apart. I thank Ekta Kapoor for giving him a new life with her serials and thanks to which we saw him on big screen after so many many years. Remember his first gig around ages back when I was in 2-3 I think… Dil kya cheez hai janam hum toh jaan tere naam kerta hai.. 🙂 brilliant.
Below is a photo celebrating rains. And it has not been edited or something. I love it for the feel a cell phone camera sepia mode. No editing or zoom and the honesty of emotion. aah. 🙂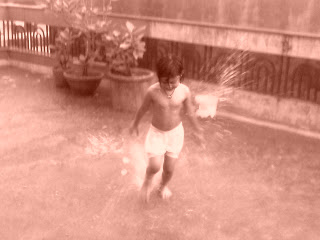 Rain rain come again!!