When I was busy collecting my thoughts at India Gate, joined by a couple of friends and a few unknown people, a little boy in a tattered vest and boxers came running towards me asking for a candle.
He enquired
"Didi yahan kya ho reha hai?"
I, in my very profound ways, explained the kid
"rally ho rehi hai. desh ke liye.
" (Wow did that even make sense? Whatever!)
The boy was definitely not so satisfied with the answer so, he asked again. This time he chose another person ofcourse .
"Bhaiya, yeh mombatti anna ke liye hai? Kal bhi aaye the na yahan sab" Suddenly someone shouted "bharat mata ki jai, Vande matrem, vande matram"
Before any one of us could have replied the boy jumped excitedly and said " arrey aazadi aaane wali hai. bhai humein aazadi milne wali hai" and he ran away jubilant in his own little world.
I realised, how he simplified what we could not even phrase. He knew there was some one called Anna. Not that the movement or the strike would change the world in 95 hours. But, the effort showed us that we all are not just nincompoops. We know how to follow the lead when we see one. We know the importance of being together, of supporting our people, even if it is not a cricket match.
We might have issues with people involved with the movement but the level of dedication, the media portrayal and at the 'genuineness' of the cause, drove many of us to Jantar Mantar. The fact that the people there are no less 'common' than us. In other words it was a movement where everyone was 'approachable'.
We could talk to Anna, Kejriwal, Agnivesh or anyone out there without any ladder of formalities. Yes, one just had to write it on a paper and pass it on to the stage or you can still mail them your views. But, before that do the home work of reading and analysing what exactly is on the table.
A few things I loved about the five day haul.
The very first is the humility, discipline and order portrayed by the Delhiwalas. It was incredible to see the 'carefree rather careless' delhites in their new civilised avatar. I did not experience any uncomfortable glances from roadside romeos. It was peaceful in spirit and nature.
Secondly, I was surprised to see the way the movement struck a chord with people from different age groups, different sects, different locations. I met people from Maharashtra, Uttar Pradesh and Haryana who had volunteered to the cause irrespective of any personal or regional interest.
A conversation–
He– Aap kahan se aayi ho madame?
Me-  Yahin se hun, dilli se.
He- mein aur mere chaar dost haryana ke ek gaon se aaye hein. Mutewa (or was it mutera/ sorry I 
forgot)
Me- accha. 
Another man joined us asking if we needed help with candle distribution or any other duty he could take up. As, I politely accepted the offer the guy continued his conversation.
He- Toh aap yahan kaam kerti hein. anna ji ke saath?
Me- nahi bas aise hi. arvind ji ke saath kaam kiya hai. aur lega ki yahan sab accha ho reha hai. isliye aa gayi.
He- Hum toh Anna ke liye aaye. Woh humare liye aaya hai. Dekho bhai, Uski toh sudhar li. 
I gave him an inquisitive look. To which he promptly responded
He- arrey tehattar (73)saal ka hai yeh anna. iski toh ho li jitni zindagi honi thi. bas ab humari hi toh sudharne ke liye lega hua hai. Toh jab yeh bhooka reh sakta hai toh hum yahan naa asake hein? 
Me- sahi baat hai ji bilkul. bahut accha kiya aapne.
Thirdly the media, this above conversation was possible because of the media campaigning. There was a major news draught that would have hit media if they failed to pick Anna's movement. Right after world cup and right before IPL. The timing was right and thus the 24 hour news channel syndrome hummed the anna raag day and night.
Fourthly the so called social networking as always acted as a catalyst in the way people came together in various parts of the country.
Fifthly, even if it was a handful of people who came there for show off or just for any darn reason. I saw people coming together. The big city culture of not intervening in your neighbours' feud did not stop any one to rub shoulders with the common junta.
I would categorise these people into four types–
Nobody— From a sweeper who willingly cleaned the streets to a kid who asked me "madam yahan azadi aayegi?"

Somebody— Bollywood, and theatre artists. some struggling actors were also seen. a few page three people like Koel Puri.
 
Anybody– People who want to be cool and show off activism
 
Everybodyaam aadmi. or the person who came out of curiosity to see what exactly is happening at jantar mantar. I would fall into this category.
So all of them were there to show what was one of the best mass revolutions of the times. Even the bollywood that flocked for a change avoided cheap thrills. They came, they saw, said a few lines that were not taught and left.
The politicians were not allowed to enter the movement. Another plus.
Lastly, we are living amidst very difficult times where 'being together' is the only hope for a successful future. The peoples movement in Libya and other nations has proved that if we take charge than nothing is difficult.
Just that many of us, like myself, often thought that India needs a world cup or a real war to join hands. We can never come to consensus on one single thing. I think, this little something did make a difference. Atleast being there and seeing it all helped me realise how we are not that hopeless a lot. We know when to stick together and we can show what we are made of.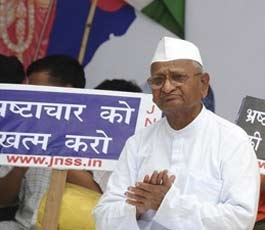 There are a lot many talks about the means and the measures and also the final achievement. But for me it was like winning the world cup all over again. Thank you for reminding that we stand together as a nation. I know it does not comprise of a few thousand people. But one person managed to pull them together. We might have many Annas amongst us. Thank you for inspiring us always.