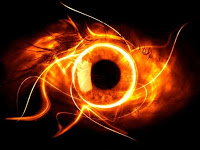 Picture Courtsey- Internet
It was a bright, sunny, afternoon illuminating her dead living room. Her eyes strained to adjust with the light now cascading through the blinds of the window. Next to the broken vas, the shards of mirror and the useless pieces of furniture lay her curled up little body.
Was she alive? She thought. Was she wanting to be alive, she wondered.
Her hand bruised, bandaged with a white handkerchief tied around the wrist. The blotchy bit of cloth looked old and pale. Perhaps, it has been often used for the same purpose. Her head was throbbing.
As she saw the 18 years of her life in this very room. What was she to do? Who was she?
She could certainly not remember everything. Anything.
She searched herself in the many broken pieces on the floor. She picked one of them and the rays refracted and she smiled. Smiled.
It was here birthday and the room was lit with 16 candles and his smile. Their friends had made the day unforgettable. They had slept on the couch that day.
She jolted from the memory. As she saw one of her shadows cry. She moved closer picked it up and saw the day outside hospital. And in his arms she had wept till dawn. He was there with her all the time. The days had seemed so long but he had made the sorrow go away.
Suddenly, the sound of the tap tickled her senses, reminding her of the Mumbai monsoons. Last year they were stuck in home for three whole days. And the days were still vivid and fresh in her memories.
She felt dizzy and held her self to keep her gaze steady. The cracked ochre walls, the pale red curtains and the burnished photo frame. She swept the floor and made her way into the kitchen.
She saw the clock it was three. The calendar said it was 26th. He would be here any moment now. She put herself together and staggered her way to the bedroom. Changed into a beautiful chiffon saree, wore the bangles and the high heel sandals.
She rushed to the railway station and thought she will surprise him. It was a great plan. She hated to wait and he had always told her that she should not bother to surprise her. And she will never succeed in doing so. This time she will. She knew.
But, perhaps he wants to surprise her. Trains came. Trains went. Must have missed it or may be she did not see him. Oh right! She was so busy looking for him and all these uniform walas looked the same. She had seen so many of them since her marriage that being amidst them gave her a sense of déjà vu, she thought.
She anxiously waited for a familiar face as one of them walked towards her. She knew him and relief swept her.
"Captain Ramesh" she waved and walked towards her "Where is Ani?"
He gave her a quizzical look and said "He did not mention you will be coming."
"Ohh silly, How will he, if he did not know?" said she.
"Come let us go. He must have left for home." said Ramesh.
They went back home. Ramesh opened the door and told her to wait. He must be here any moment now. May be he had planned another surprise. So, she should stay inside.
As she waited, it was twilight. Ramesh was gone. The yellow of the sun now entered her room. Squalid. Old. Tired.
 She saw the red flow inside her room. The vision again dwindling, a glance shot towards the pile of newspapers in the corner of the balcony. She wiped sweat off her forehead as the vermillion trickled down her neck.
She lay there forever, she thought. There lay the broken pieces of her bangles, the mirror and this time she did not sweep them away.
Where was he? It was late.
And there he was, smiling in his starched green uniform, hanging on the wall.
He still looked so handsome. Her heart went flippety flop, like a teenage girl, she thought. The uniform had always fascinated her.
She loved him.
Was he laughing at her? He certainly had a sadistic side. He loved it when she used to get irritated and was smitten by the expression on her face with her beautiful pout.
She smiled. Yes, he was doing it again. Silly me thought she, as a wave of darkness took over again.